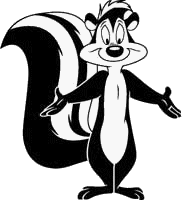 Two nights ago, it happened. Driving the kids home from
Awana
, I saw something run in front of my car. With much dismay, I realized it was a skunk. By the way, the real deal is nowhere near as charming as Pepe Le Pew.
Swerve to the left and hit the median, swerve to the right and hit a parked car. Aim down the middle, avoid smooshing Mr. Skunk with tires and hope he lays low and makes it somewhat unscathed.
The latter was my strategy, and I hoped it might work. Turns out skunks aren't very smart though--as he got halfway under my car, I heard a clunk and bump and I knew we were sunk.
And we were, sunk into stench!! PEW is right... I tried rolling down the windows and received instant and heavy chastisement from my children. That's when I had to admit to them the smell is actually coming from our car, not from an independent location outside.
Koji urged me to drive straight to the car wash, and perhaps I should have. Mama instincts urged me to get home and get kids to bed instead. Meanwhile, Misaki (who can't yet pronounce initial "s") made the final and best declaration of the evening:
"Mama, God love 'kunks!"
Good thing, 'cause I don't!